6/18/2010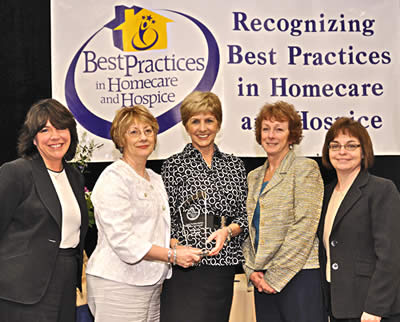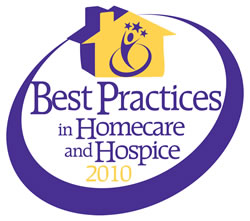 Pictured left to right: Accepting the award for Best Practices in Homecare and Hospice are the agency's senior vice president of hospice and palliative care, Kim Kranz; chief clinical officer, Celeste Twardon; Pennsylvania Homecare Association President/CEO, Vicki Hoak; director of home health, Janie Christner; and director of hospice, Kathy Baker.
Home Nursing Agency was recognized for Best Practices in Homecare and Hospice by Pennsylvania Homecare Association, the state trade association that represents home health, hospice and personal care providers across Pennsylvania. Homecare and hospice executives and senior managers from across the state as well as state officials and industry experts served as judges for the awards. Four agencies received the 2010 Best Practices in Homecare and Hospice distinction and 11 additional agencies were recognized as finalists for the award.
The agency was recognized for implementing Best Practices in Operations Management. Spearheaded by the Agency's Chief Clinical Officer Celeste Twardon, Director of Home Health Janie Christner, and Director Customer Satisfaction/Data Integration Christine Smith, the agency set out to further improve its customer satisfaction scores by implementing the "Continuity of Care" education program in its 13-county coverage area. As a result, Home Nursing Agency's staff better managed its customers' experiences through effective communication and sensitivity to his/her conditions and the needs of their caregivers.