In The Media
Home Nursing Agency's Loren Horton Named as "Top 20 Under 40"

June 2012
Customer Relations Coordinator Loren Horton was selected for Altoona Mirror's "Top 20 Under 40" publication.
Horton and 19 others were highlighted in the June edition of the Blair Living magazine as young professionals who are making Blair County and central Pennsylvania a better place to live and work.
The following is the information that appeared in the "Top 20 Under 40" publication: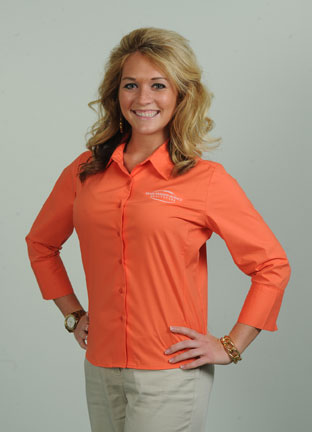 Name: Loren Horton
Current Residence: Duncansville
Hometown: Saxton
Age: 24
Family: Father Blane, Mother Jo Ellen, Step-father Tim, Step-mother Mary Lou and brother Logan
Place of Employment: Home Nursing Agency
Job Title: Customer Relations Coordinator
Education: Graduated from The Pennsylvania State University in 2010 with a Bachelor of Arts degree in Media Law & Policy and with a minor in Law & Liberal Arts.
My Business Role Model(s) Have Been: Therese Rossman, Director of Operations at HNA and Sandra Sangiorgio, Director of Growth & Business Development at HNA. Both of these women have been my mentors, leading me with their gifted guidance and relentlessly rallying for my success.
My Life Role Model(s) Have Been: My parents, who have taught me to be happy, give thanks every day, count my blessings, embrace change, be authentic, set goals and most importantly; to make my life matter.
The Best Thing About My Job Is: Being part of a non-profit organization that provides remarkable care whether it's at home, school, or one of our community sites that enhances the lives of the residents in Blair County.
What I Like To Do Most On My Day Off: I enjoy spending quality time with the people who mean the most: my family and friends.
Community Organizations I've tried to support: Morrisons Cove Rotary Club, GRYP [Growth & Relationships of Young Professionals], Blair County Chamber of Commerce, Tyrone Area Chamber of Commerce, Special Olympics of PA and American Cancer Society. 
What I'm doing to help make Blair County/Central Pennsylvania a Better Place to Live and Work: In my role, I work to educate physicians, families and organizations on the diverse services that Home Nursing Agency offers to our community.
Why I Like Living in Blair County/Central Pennsylvania: I enjoy living in a small town that offers a big community connection. Whether I am at the ballpark, the lake or the gym, there is always something enjoyable and entertaining to participate in.
My Favorite Quote: "If you don't go after what you want, you'll never have it. If you don't ask, the answer is always no. If you don't step forward, you're always in the same place."