Adult Center for Exceptional Learning (ACEL)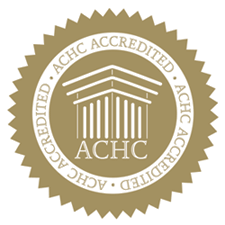 For adults 18-years and older
Home Nursing Agency's ACEL Program (Adult Center for Exceptional Learning) provides a safe  environment during the day for adults with cognitive and physical disabilities. Part of ACEL's mission – and the mission of Home Nursing Agency – is to offer a broad range of health and human services that improve the quality of life and enable people to remain in their homes and communities. At ACEL, the definition of 'support' entails much more than the physical help required – it involves our staff connecting, on an emotional level, with each individual and their family.
ACEL provides in-home services as well as one-on-one center-based assistance. Often referred to as the 'The ACEL Family', our staff customizes a care plan to meet the needs of each individual and requests of his or her family. Whether it is assisting with daily living activities in the home, offering companionship through engaging community activities, or providing respite for families, ACEL can accommodate a variety of requests and even provide transportation.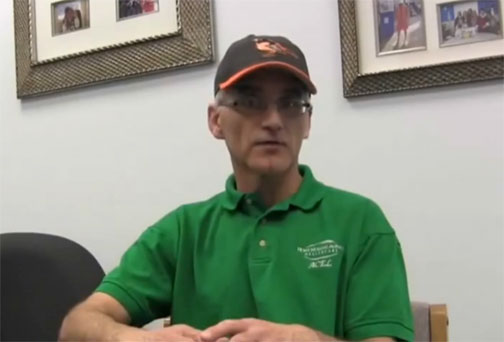 Home Nursing Agency recently partnered with Forever Broadcasting to encourage people in the community to make a difference by referring someone in need of services, donating to the Home Nursing Agency Foundation, or volunteering at an Agency program such as ACEL. Click here to see the ACEL segment of the "Make a Difference" campaign, and learn about ACEL in the words of Ernie Skibo, Program Specialist/Activities Coordinator.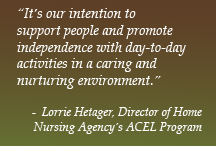 ACEL strives to provide a wide range of experiences through community and center-based activities:
Nestled around the perimeter of Lakemont Park, ACEL's location provides a setting that offers maximum community participation. Escorted by ACEL staff, our participants often visit Lakemont Amusement Park and attend games at the Blair County Ballpark, since both are within walking distance of ACEL. Individuals also have opportunities to take part in day trips to nearby parks, restaurants, and shopping malls.
ACEL participants are engaged through activities such as music, dance, exercise, and crafts. Resident artists and musicians from The Southern Alleghenies Museum of Art (SAMA) visit ACEL to provide participants with outlets for creativity under a program called "Art in Healing", which is a progressive approach to direct care.
The ACEL facility features a special sensory room, which includes light smell, visual, and touch enjoyment for individuals.