Pediatric Home Connection
For children from birth through 21 years of age
Special Children. Special Families. Special Nurses.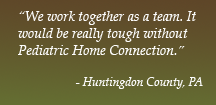 Taking care of medically fragile children is not an easy job. Pediatric Home Connection provides skilled nursing care to technologically dependent children from 4-16 hours per day. This care is provided so that parents can sleep, work, or go to school. Our qualified and specialized nursing staff is competent in ventilators, tube feedings, IV therapy, and medication administration.
Children in this program are technology-dependent or suffering from chronic, life-limiting disabilities. Nurses can care for children at home, or accompany them to school to ensure proper medical care.
The team works with some of the state's best medical facilities, such as Children's Hospital in Pittsburgh, Hershey and Geisinger Medical Centers, to provide care for children with complex medical needs in their own homes and communities on a regular basis.
Pediatric Home Connection was recently featured in the Caregivers section of the Altoona Mirror. Click here to read the story.
Families need additional support, not paid for by medical or government insurances, and the Home Nursing Agency Foundation mission grants have provided funds to cover the cost of relief services for parents and families in this service. One example of a mission grant at work was in the life of a family with a four-year-old son on a continuous feeding tube.
"The parents have not been able to go out to dinner alone for four years. They have no other family members who are comfortable watching him because of his complex medical needs. We were able to provide an evening of nursing service so they could go out and celebrate their wedding anniversary. The comment the mother made to me was that it was the best gift she could have ever received." – Pediatric Home Connection Nurse
To contribute to the Home Nursing Agency Foundation and make a difference in the lives of those served by the Agency, please click here.