6/25/2018 The planning team for Patched Together: A Day of Music recently presented a check for $18,134 raised to benefit the Home Nursing Agency Healing Patch: A Program for Loss and Hope for Grieving Children and Their Families. The Sixth Annual Patched Together concert was held in November 2017 with live music from a variety of local performers, Chinese auction, and children's activities.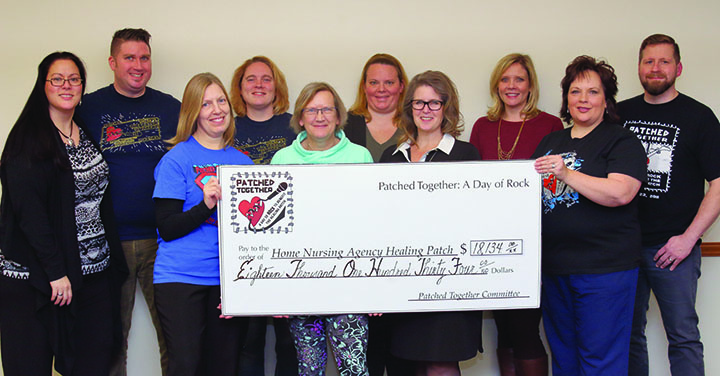 "We are so grateful for the commitment of this team of compassionate volunteers that dedicate endless hours of their time to support the grieving children in our community," shares Allison Stockley, Family Hospice Manager of Volunteers and Bereavement Services. Stockley has overseen operations of the Healing Patch since 2006 when the program began. "It has been an honor and privilege to work alongside this dedicated team for the past seven years as they raise funds for the vital operations of our Healing Patch program, significantly contributing to the sustainability of services." 
Pictured from left are planning committee members Jordanna Gerraughty; James Gerraughty; Sue LeCrone; Rebecca Keefe; Sue Richard; Gabrielle Cronin, committee chair; Allison Stockley, Manager of Volunteers and Bereavement Services; Melody Ray, Volunteer Coordinator/Grief Specialist; Missy Tonkin; and Kent Tonkin.
Started in 2011, Patched Together was created by a passionate group of volunteers whose goal was to ensure grieving children have access to the resources of the Healing Patch. Fueled by the volunteers' love of music and desire to showcase local talent for a great cause, Patched Together raises funds for the Healing Patch, increases awareness of the prevalence of children's grief, and demonstrates how important it is to support those children and their families. Patched Together has raised more than $107,000 since 2011. This year's event is set for Sat., Nov. 17, 2018.
The Healing Patch provides free peer mentoring and support services to children and families who have experienced the death of a loved one. The Healing Patch is supported by individual and community donations, local grants and fundraisers, and is staffed by volunteers. Centers in Blair and Cambria counties serve families from throughout the region. The Healing Patch provides a safe place for children to voice their grief and participate in activities with their peers who have suffered similar losses.
To learn more about Patched Together, visit the Patched Together website or Facebook page.
To learn more about the Healing Patch, click here or call Home Nursing Agency at 1-800-445-6262.