5/24/2022 Charlotte & Paul Pletcher of Osterburg held the winning number – 545 – for Home Nursing Agency Foundation's Mercedes Moment fundraiser held on May 19.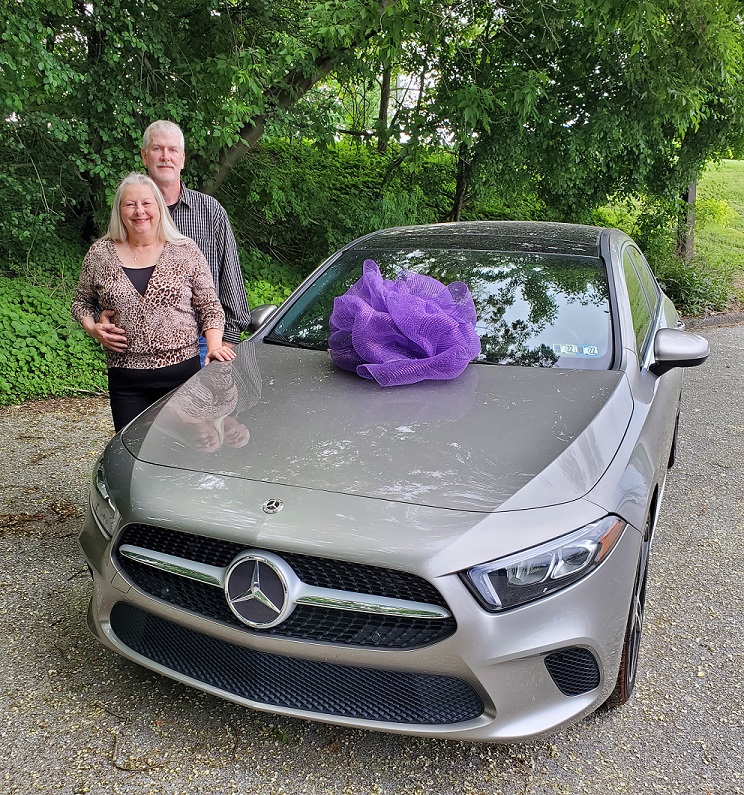 The winner was announced as part of Mercedes Moment Night at the Altoona Curve after the first Pick 3 Pennsylvania lottery number at 7 p.m. As the winner, the Pletchers were offered the choice of the Mercedes A 220 or $30,000 cash prize.  
In the 20th consecutive year, Mercedes Moment raised more than $88,000 to help support individuals and families in who have needs beyond normal circumstances and who may need additional services not covered by insurance. This year, the Home Nursing Agency Foundation has awarded $181,670 in mission grants to directly impact the lives of Central Pennsylvania residents who are served by UPMC Home Healthcare, Family Hospice and Home Nursing Agency Community Services. The Home Nursing Agency Foundation supports patients and families in Bedford, Blair, Cambria, Centre, Huntingdon, Mifflin, Juniata and Somerset counties.
If you would like to be added to the mailing list for next year, please complete this form. 
Thank You to Our Generous
2022 Sponsors!
GLE SUV Sponsor



S-Class Sponsors



 

                    

E-Class Sponsor


 

C-Class Sedan Sponsor

 

 

C-Class Sedan Sponsors

Encompass Health Rehabilitation Hospital of Altoona

The Lakemont Partnership

 

CLA Coupe Sponsors

CleanService Corporation

Friend of the HNA Foundation

Quality Services

Spring Cove Container

The official registration and financial information of Home Nursing Agency may be obtained from the Pennsylvania Department of State by calling toll-free, within Pennsylvania, 1-800-732-0999. Registration does not imply endorsement. If you would like to be removed from our mailing list please contact the Home Nursing Agency at 1-800-992-2554.The Home Nursing Agency Foundation is a community benefit, non-profit organization whose purpose is to provide financial support to create, improve, or enhance programs and services that ultimately results in a benefit to the individual, family and community served by the Agency. Since 2005, the Foundation  has awarded more than $2 million to Agency programs and services—dollars staying close to home within the cities, towns and boroughs served by Agency caregivers.
The Foundation welcomes all private and public donations, which are tax-deductible to the fullest extent of the law. For more information about the Foundation and grants awarded, please contact Kim Helsel at 814-947-7024.