2/9/2023 As the number of families impacted by overdose death continues to grow, the Healing Patch Children's Grief Program is hosting a free in-person training on how to support these grieving children and families on Tues., March 21 from 1-4:30 p.m. at the UPMC Home Healthcare office, 20 Sheraton Dr., Altoona. The training will include the National Alliance for Children's Grief live webcast on "Supporting Children and Families Following an Overdose Death" with a Q&A to follow.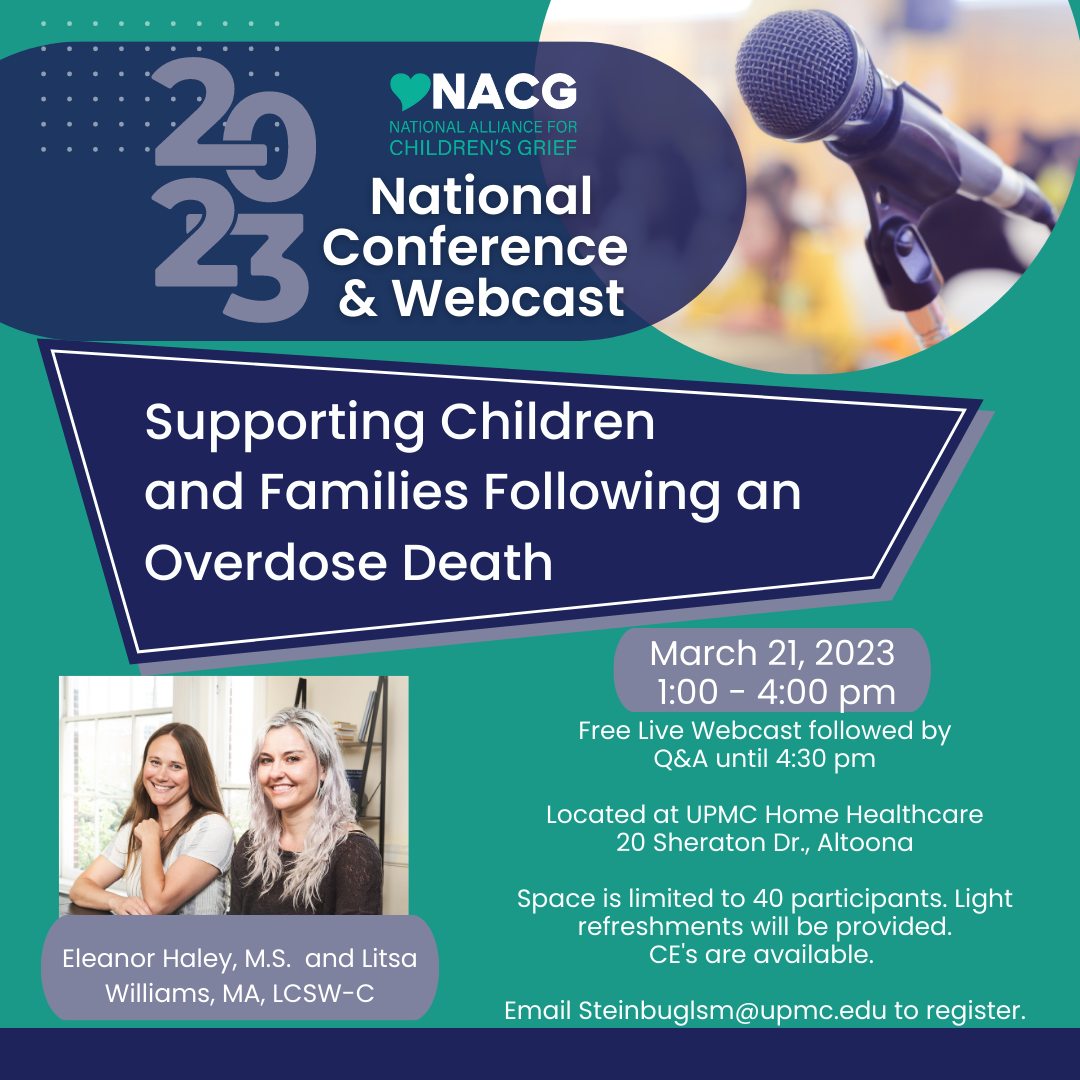 Speakers Eleanor Haley, M.S. and Litsa Williams, MA, LCSW-C, will present the NACG webcast, and Healing Patch Coordinator Melody Ray will facilitate the Q&A with local in-person attendees when the livestream concludes.
Continuing Education credits will be available to those who are interested. Light refreshments will be provided. Registration will be limited to 40 participants. If interested in attending, please email Shalen Steinbugl, Healing Patch volunteer coordinator/grief specialist, at This email address is being protected from spambots. You need JavaScript enabled to view it.. Please indicate if seeking CE credits.
According to the 2022 Childhood Bereavement Estimation Model Impact Report, one in five children who experienced the death of a parent in 2020 are grieving an accidental overdose death. The National Center for Drug Abuse Statistics shares that 96,779 drug overdose deaths were reported nationally from March 2020 to March 2021. Based on outreach to the program, Healing Patch Coordinator Melody Ray testifies that this impact is felt locally.
"As a program, we continue to see increased numbers of children and teens bereaved due to a parent's death from a substance use disorder," Ray shares. "It is important that these children – like all grieving children – are given a safe place to share their grief. Community and in-school grief support groups like the Healing Patch offer them a place to share, connect and express their feelings with others who have lost a significant person to death. This environment can put kids on a path of healthy grief expression, potentially lowering their likelihood of engaging in at-risk behaviors, such as substance abuse. This webinar can equip others with tools to support families who have suffered loss from drug overdose." 
This educational opportunity is being offered free alongside peer support services provided through centers in Altoona and Ebensburg and in-school groups in Bedford, Blair, Cambria, and surrounding counties. To learn more about local grief resources or to refer a child/family for services, please contact the Healing Patch at 1-800-445-6262 or visit homenursingagency.com. 
About the Healing Patch
The Healing Patch Children's Grief Program began in 2006 as a free peer support program for children and their families who have suffered the loss of a significant person, such as a parent, sibling, grandparent or close family member. Since that time, the program has expanded to support children through in-school services, grief resources and other community services. Sharing memories and experiences allows grieving children and families to discover that what they are going through is normal and that hope and healing are possible. The Healing Patch is a free service to the community and relies on individual and community donations, grants and fundraising events for support. If you would like to support the Healing Patch by donating or volunteering, please contact us at 1-800-445-6262 or homenursingagency.com. The Home Nursing Agency Foundation is supported by the United Ways of Bedford County, Blair County, Huntingdon County and the Laurel Highlands.

# # #