2/15/2013
Our Guarantee to You:
We can't guarantee your ticket will win a Mercedes C250 Coupe,
but we CAN guarantee your donation will change a life.
The sole purpose of the Mercedes Moment fundraiser is to raise funds that will allow us (and you) to make a difference in the lives of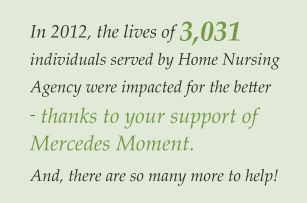 individuals and families we serve who have tremendous needs beyond normal circumstances.  
Each year, the Home Nursing Agency Foundation uses your donations to provide for those in our care who have exceptional need. With your support and that of others who purchase Mercedes Moment tickets, we are able to sustain the level of services that our community has come to expect from Home Nursing Agency.
Your continued support of Mercedes Moment will ensure that we will be there for your family, friends, and neighbors when they need us.
What is Mercedes Moment?
• $100 per ticket
• Red Mercedes C250 Coupe*or $30,000 cash
• Based on the first 3-digit PA Lottery on Thursday, May 16 @ 7 p.m.
• Only 1,000 tickets sold
• Players must be 18 years and older
• If winner chooses car, winner must pay sales tax and title and transfer fees. Price of ticket is not tax deductible.
How to purchase a ticket?
• Print this order form or pick one up at any Kopp Drug or Reliance Bank location, complete, and return to:
   Home Nursing Agency
   201 Chestnut Avenue
   Altoona, PA 16601
• Ticket numbers will be distributed on a first-come, first-serve basis
• Ticket(s) will be mailed to you prior to the event
Questions?
Contact Home Nursing Agency Foundation:
1-855-GIVE-HNA (1-855-448-3462) or email This email address is being protected from spambots. You need JavaScript enabled to view it.
What $100 will support:  
Emergency funding for Hospice (individuals facing a life-limiting illness) and Home Care (individuals dealing with illness or injury) patients who lack life's basic necessities such as food, heat, bedding, and medication or are in need of additional services not covered by public or private insurances.
The patient had no food and no money to purchase food. Immediately, the social worker went to the grocery store, spending $95.50. She then made the necessary referrals to assist with future food purchases.
The Healing Patch: A Program for Loss and Hope for Grieving Children and Their Families, that is offered FREE to those in our community who have lost a loved one.
One teenage boy would often sit with a drum at each session . . . Sometimes playing his heart out . . . Sometimes just rubbing his hands across the top of the drum. This child lost his birth mother to drugs and was raised by his great grandmother, who recently passed away.
Individuals with cognitive and physical disabilities who attend the Adult Center for Exceptional Learning (ACEL) or clients of the Adult Day Services program who cannot afford to pay for care during the day in a safe environment while their caregivers have a break.
One family was extremely grateful and specifically stated they have peace of mind while they work. They have additionally seen improvements in their father's independence, socialization, and food intake.
Thank you to these community partners for supporting Mercedes Moment 2013:
 Highmark Blue Cross Blue Shield
The Home Nursing Agency Foundation is a community benefit, non-profit organization whose purpose is to provide financial support to create, improve, or enhance programs and services that ultimately results in a benefit to the individual, family and community served by the Agency. Since 2005, the Foundation  has awarded more than $857,000 to Agency programs and services—dollars staying close to home within the cities, towns and boroughs served by Agency caregivers.
The Foundation welcomes all private and public donations, which are tax-deductible to the fullest extent of the law. For more information about the Foundation and grants awarded, please contact Pam Seasoltz at 814.946.5411, ext. 2565.
The official registration and financial information of Home Nursing Agency may be obtained from the Pennsylvania Department of State by calling toll-free, within Pennsylvania, 1-800-732-0999. Registration does not imply endorsement. If you would like to be removed from our mailing list please contact the Home Nursing Agency at 1-800-992-2554.