6/27/2018 The 5th Annual Life O'Riley Memorial Ride is scheduled for Sat., July 21 to benefit Home Nursing Agency's Healing Patch: A Program for Loss and Hope for Grieving Children and Their Families. Hosted by 4D's Lounge in Altoona, the ride begins with registration at 10:30 a.m. and kickstands up at noon. Doors open at 4 p.m. for those not participating in the ride.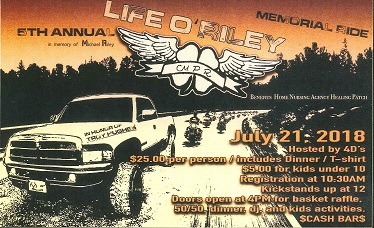 The Life O'Riley Memorial Ride is a family-friendly event including a motorcycle run, dinner, basket raffle, 50/50, DJ, kids' activities, and a cash bar. Life O'Riley was started five years ago to remember the life of Michael Patrick Riley, who passed away unexpectedly in April 2013, leaving behind three young daughters. This year's ride is also in memory of Troy Hughes.
Cost is $25 per person and includes a t-shirt (while supplies last), dinner, entry to basket raffle, 50/50, and kids' activities. Preregistrations postmarked by July 14 are $20 per person.
Registration forms can be picked up at Molly Maguire's Pub in Altoona, Unlimited Cycle Center in Tyrone, the Old Canal Inn Hollidaysburg and Home Nursing Agency's Altoona offices at 201 Chestnut Ave. and 20 Sheraton Dr. Registration forms can also be obtained by emailing This email address is being protected from spambots. You need JavaScript enabled to view it..
The Healing Patch provides free peer mentoring and support services to children and families who have experienced the death of a loved one. The Healing Patch is supported by individual and community donations, local grants, and fundraisers, and is staffed by volunteers. Centers in Blair and Cambria counties serve families from throughout the region. The Healing Patch provides a safe place for children to voice their grief and participate in activities with their peers who have suffered similar losses.
For more information about the event, visit the Life O'Riley Memorial Ride page on Facebook. For more information about the Healing Patch, including how to enroll for services or become a volunteer, click here or call 1-800-445-6262.