6/3/2019 One in seven children in America will lose a parent or sibling by the age of 20. Behind this staggering statistic are real children – grieving children who often say that they feel alone. At the Healing Patch, grieving children find that hope and healing are possible through connecting with others. Volunteers are the heart of the program, and new volunteers are needed to meet the growing number of families finding support at the Healing Patch.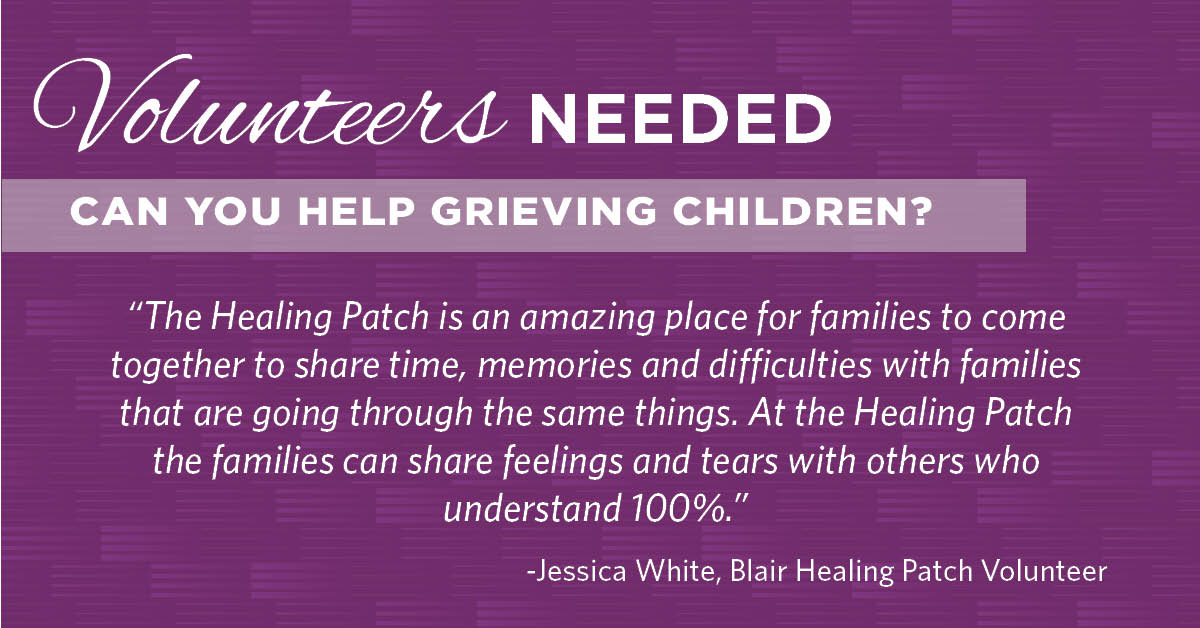 The Healing Patch is a free program that began in 2006 to offer peer support services for children and their families after the death of a parent, sibling, grandparent, or other loved one. Group sessions are held in Blair and Cambria counties.
"The Healing Patch is an amazing place for families to come together to share time, memories and difficulties with families that are going through the same things," shares Blair Healing Patch volunteer Jessica White of Altoona. "At the Healing Patch the families can share feelings and tears with others who understand 100%. I have had families share that they love coming to Healing Patch because it gives them some place to finally be themselves in their grieving process and not feel judged by others for it. As an adult having gone through losses myself, I am grateful for the experiences and healing I have seen." 
After losing her older brother in an accident in 2005, Monica Klatt of Lilly saw firsthand how his two young children were impacted by the death. She began working at Home Nursing Agency in 2008 and was introduced to the Healing Patch, realizing how great it would have been if they had access to that type of program.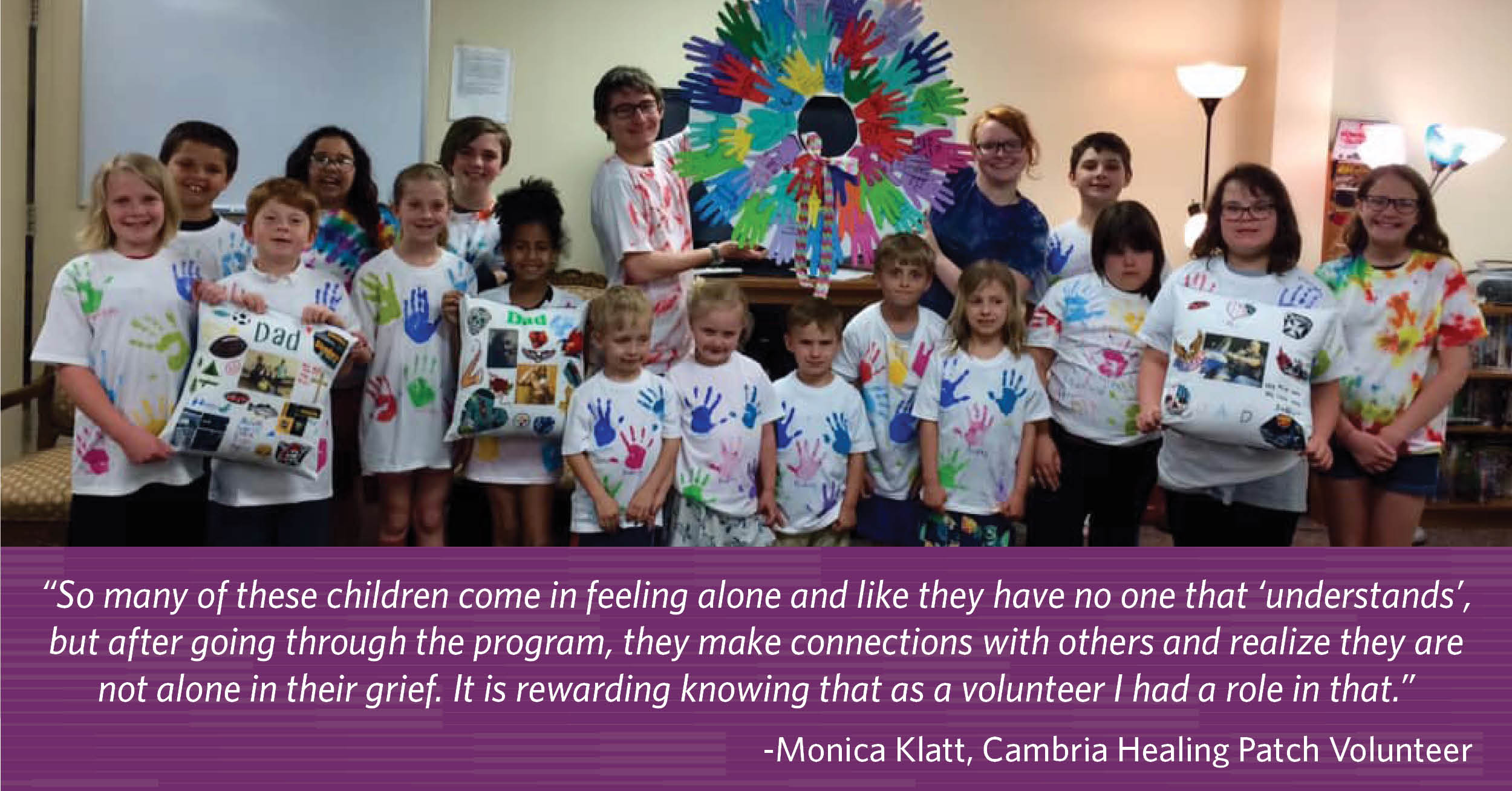 "After dragging my feet for a couple of years, I decided that I had to be a part of this program because without volunteers, it wouldn't be possible for this to exist," Klatt says. She has been an active volunteer in the "Middles Room" at the Cambria Healing Patch since going through training in 2011 and has enjoyed seeing the impact on local families. "So many of these children come in feeling all alone and like they have no one that 'understands', but after going through the program, they make connections with others and realize they are not all alone in their grief. It is rewarding knowing that as a volunteer I had a role in that."
While volunteers must understand they are unable to "fix" what has happened, they play a vital role in helping to bring hope and healing back into the life of a child. Healing Patch volunteers work well with children and assist with leading activities and discussions related to loss. Volunteers are essential for group nights, which occur two evenings a month from September through May. After completing the training process, volunteers commit only 14-17 evenings per year to assist with group nights.
Individuals interested in volunteering can complete a volunteer application online or can call 814-947-7200 to ask questions and start the process. In order to be eligible to work with children and families, volunteers are required to complete TB testing and receive a flu vaccine (during flu season). New volunteers receive comprehensive training and have assistance in obtaining clearances. 
For more information about Healing Patch services or volunteer opportunities, contact Melody Ray, Healing Patch Coordinator, at 814-947-7200 or This email address is being protected from spambots. You need JavaScript enabled to view it..