8/4/2020 UPMC Home Healthcare of Central Pennsylvania has been recognized by Strategic Healthcare Programs (SHP) as a "Superior Performer" for achieving an overall patient satisfaction score that ranked in the top 20% of all eligible SHP clients for the 2019 calendar year.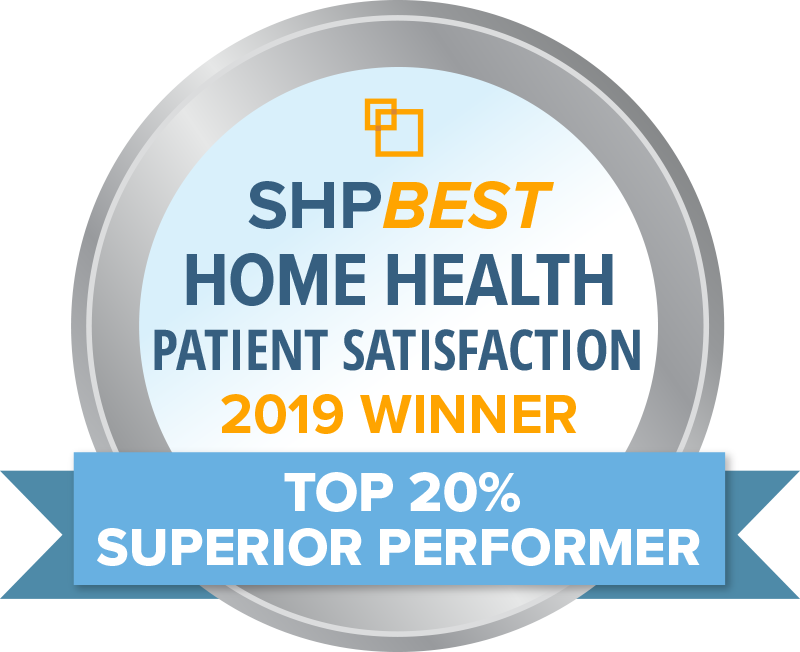 The annual SHPBest™ award program was created to acknowledge home health agencies that consistently provide high quality service to their patients. The 2019 award recipients were determined by reviewing and ranking the overall satisfaction score for more than 3,000 home health providers. With the largest HHCAHPS benchmark in the nation, SHP is in a unique position to identify and recognize organizations that have made patient satisfaction a priority and have been rewarded for their efforts with high marks on the HHCAHPS survey.
"SHP is proud to present the SHPBest awards to our top-performing customers. We commend these organizations for their continuous focus on delivering the highest quality of care to their patients", said Rob Paulsson, President of SHP.
"Our team is highly committed to providing excellent patient care," shares Laurie Karstetter, Vice President, Clinical Operations, UPMC Home Healthcare of Central Pennsylvania. "We focus on continuous performance improvement and strive to ensure that each patient has the best possible outcome. It was an honor to receive this award and know that we are among the best organizations in our field. We will continue to strive to be a leader in home and community-based care."
"I am incredibly proud and grateful for the clinicians and leaders in our organization for never missing a beat through the COVID-19 pandemic," continues Karstetter. "They remain strong during a challenging situation to ensure that our patients are getting the best care possible."
Read more about the SHPBest awards program, including methodology and award recipient lists at https://www.shpdata.com/home-health/shpbest-hhcahps.
About UPMC Home Healthcare of Central Pennsylvania
UPMC Home Healthcare of Central Pennsylvania offers nursing, therapy and specialty services to residents of 12 counties in Central Pennsylvania. UPMC Home Healthcare is part of the community, providing individualized, timely care to patients and their families – in their homes – while they recover from injury illness or surgery. Learn more about available services at www.upmchomehealthcare.com.
About Strategic Healthcare Programs (SHP)
Strategic Healthcare Programs (SHP) is a leader in data analytics and benchmarking that drive daily clinical and operational decisions. Our solutions bring real-time data to post-acute providers, hospitals, physician groups and ACOs to better coordinate quality care and improve patient outcomes. In business since 1996, SHP has built deep expertise and a strong reputation to help organizations nationwide raise the bar for patient care.
UPMC Home Healthcare of Central Pennsylvania is an equal opportunity employer. UPMC Home Healthcare policy prohibits discrimination or harassment on the basis of race, color, religion, ancestry, national origin, creed, limited English proficiency, age, sex, genetics, sexual orientation, marital status, familial status, handicap or disability, ability to pay, diagnosis, veteran status, infectious disease, DNR status, or any other legally protected group status. Further, UPMC Home Healthcare will continue to support and promote equal employment opportunity, human dignity, and racial, ethnic, and cultural diversity. This policy applies to admissions, employment, and access to and treatment in UPMC Home Healthcare programs and activities. This commitment is made by UPMC Home Healthcare in accordance with federal, state, and/or local laws and regulations.