8/28/15 The Agency's Nurse-Family Partnership® program, including NFP Supervisor Lois Schultz and client Toccara Thomas Smith, were featured in a recent WTAJ broadcast sharing the program's success of preparing children for school by equipping first-time mothers with the resources and confidence they need.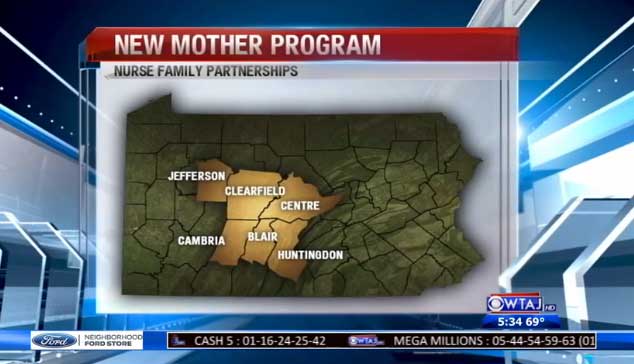 By Christian Heilman | 
This email address is being protected from spambots. You need JavaScript enabled to view it.
Some schools in our region want to make sure kids get started on the right path early.
School administrators in Johnstown say some kids come into class not knowing how to use a book because their parents never taught them. But thanks to a new program, they're hoping to change that one child at a time.
When Toccara Thomas Smith found out she was pregnant with J'Mya -- she had plenty of questions.
Toccara Thomas Smith, Nurse Family Partnership Graduate, said, "Oh I had a zillion. I didn't know the first thing about motherhood."
She had to learn the basics about being a single mom.
"I actually I learned how to change a diaper properly," she said. "I learned how to do temperatures, I learned how to weigh them."
That was more than two years ago. Back then, Smith signed up for the nurse family partnerships program -- where a registered nurse taught her how to be a good mother.
Lois Schultz, a supervisor with Home Nursing Agency/Nurse Family Partnership Program, said, "Some of them have never held a baby. "
One third of the families helped through the program are still in school. In Johnstown, more than 80 percent of the students are economically disadvantaged.
Bill McKinney, President, United Way of the Laurel Highlands, said, "They're spending a lot of their resources on these kinds of basic -- you'd think basic needs. "
Johnstown is known to be one of the poorest cities in the state, with 44 percent of students living below the poverty level, but the United Way doesn't want statistics to serve as an excuse.
McKinney said, "These children who come up through this programming are going to have healthier kids and healthier lifestyles."
They work with schools -- including Greater Johnstown -- to make sure students are ready for their first day.
Schultz said, "We're certainly in there to help the mother -- but we're helping the mother to help their baby. "
The program is helping moms like Smith get their kids used to learning early on. Bill McKinney says the program pays dividends in the long run.
"These kids are going to excel in school," He said. "There's going to be a higher graduation rate. "
Smith said, "I got really far with the program. Without them, I don't think I'd be the mother I am today."
Smith says she has more books, puzzles -- and potential for her two daughters thanks to the program.
Smith said, "Me and my kids are going to be successful and I have this program to thank."
Toccara is currently attending community college to become a nurse. The United Way in Cambria and Somerset counties says there's a large gap in reach -- they're only able to get to ten percent of families who are eligible for this program.