6/24/2016 The HNA Adult Center for Exceptional Learning (ACEL) was recently featured in the "Go" section of the Altoona Mirror, as works from ACEL's artists is on display at the Southern Alleghenies Museum of Art in Altoona.

June 23, 2016
By Mary Haley, For the Mirror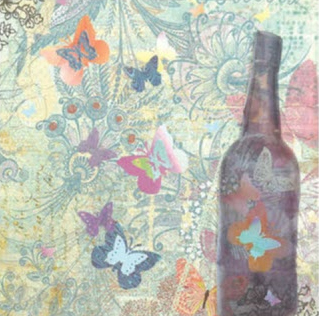 One watercolorist keeps at her work until she has her painting just how she wants it, while another artist finds joy in giving her completed pieces to those around her.
If this sounds to you like a typical art class, you're half-right and half-wrong, said the staff at the Home Nursing Agency's ACEL program, who work with these artists. You can see a selection of the artists' best pieces at the Southern Alleghenies Museum of Art at Altoona in an exhibit called "The Art of Healing.''
The people in the ACEL program, which stands for Adult Center for Exceptional
Learning, are like art students in any other class; they love to explore new textures, use different mediums like clay and paint and colored pencils.
But many of them arrive at the ACEL center at Lakemont Park in wheelchairs, because they have significant physical challenges, often accompanied with mental impairments.
However, as professional artist Terry Johnson discovered when she first met the people in the ACEL program, that's not how they define themselves.
"At first, I felt sorry for them," she said, "but that's not their experience. Their experience is, 'This is my life. And I like to color.'"
At right, "Message in a Bottle, I" is a collage done by artist Dana Servelo.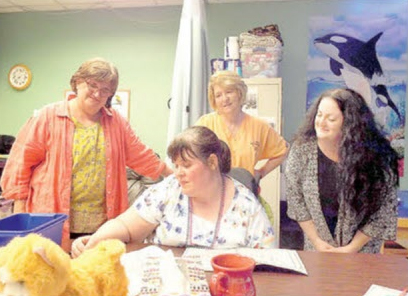 One of her students is Janette "Netti" Babiak. Netti is the artist who is always gifting her finished pieces to others. In the SAMA-Altoona exhibit, Netti has several works, some that she named for the seasons, and another called "Bubbles."
"I like to color," she said. "My favorite color is pink."
Debbie Kelly, an ACEL program assistant, said Netti is always coloring pictures and giving them to strangers.
"Any visitors, she just loves to do artwork and give it to them," Kelly said.
At left, Terry Johnson watches artist Janette "Netti" Babiak work on a piece, along with Terri Rossman, ACEL program coordinator, and Lorrie Hetager, ACEL program director.
Another artist whose work is in the show, Mike Miller, has intricate paintings and collages of train tracks. He has a work in the exhibit entitled "Town Tracks" that shows vivid, green, grassy knolls with black crisscrossed railroad tracks threading through the picture. Across the top of the landscape, he drew brown majestic hilltops.
Johnson teaches all kinds of art classes in the community – in schools, at SAMA sites and at Penn State Altoona, but she said the ACEL program is her favorite place to teach. She has been an artist-in residence six times for the program.
"I love the people; it's really something special," she said. "Even working with something as simple as a thumbprint, which we were doing today, that's great."
The ACEL program started almost 30 years ago. Its first program director, Larry Hite, worked in community theater and had the idea to combine the arts with therapy for the physically and mentally challenged, according to the program's current director, Lorrie Hetager. When Hite started, the program had three people in it.
Now it's grown to serving 50 people from Blair, Cambria and Huntingdon counties. The staff also helps their families learn how to care for their family member's needs at home, such as how to do exercises with them to maintain the gains they have made in physical therapy.
"Our services mean something - different to each person," Hetager said. "But it's really about keeping people in their homes and communities and out of nursing homes. Also, a lot of these families helping out at home-are an aging population, so we want to be there to help them as much as we can, too."
The ACEL program gets grants for the artists through the Home Nursing Agency Foundation, which is supported by donations from the community, said Hetager. Johnson is just one of several artists-in-residence who have come to work with the ACEL people. The program has featured a Native American flute player, a potter who set up a potter's wheel and a dancer who literally had one person in the program dancing out her chair.
When the potter came, not everyone could get behind his potter's wheel, so he improvised and brought the pottery clay for those who couldn't so that everyone could participate, Hetager said.
"It was cool that he was able to adapt for the folks (who) were physically challenged," she said.
Charlotte Pletcher worked with Hite and served as director of ACEL after he passed away until Hetager took over. Although both she and Hetager said they're not doctors and can't officially say the people in the program have made improvements, they believe they've seen positive changes in people over the years.
"I think it's very soothing, and if you're in pain, I think it can help you feel better," Hetager said.
Pletcher said some of the people in the program can't use their arms, but they still want to get involved in the art classes. They direct the professional artists, like Johnson, through eye movements. They will do things like blink, which is how they usually communicate, to indicate how they want their artwork to look. 
"They love to participate, and even if they can't do it themselves, they will engage another person to help them," Pletcher said.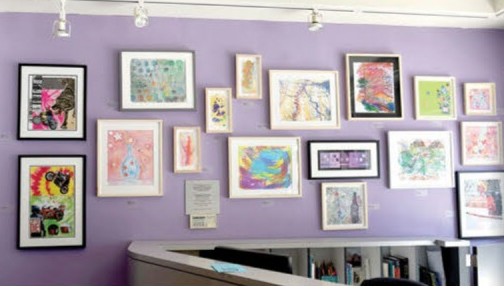 "The Art of Healing" is on display through Sept. 10.