7/1/2016 A recent Bedford Gazette story highlighted the benefits of hospice care and value by sharing the stories of two local families who were served through Home Nursing Agency hospice services.

Hospice provides quality of life for county's patients, families
By Tyna Walker-Lay
Gazette Staff Writer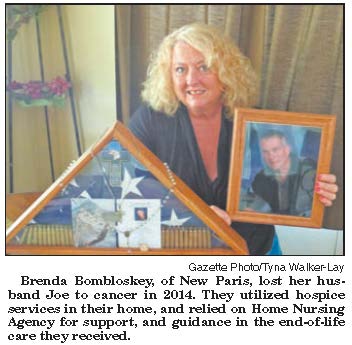 Home health care can include hospice services, programs have various options, and all have the goal of keeping patients comfortable and improving the quality of their life, whether it is in a facility or in a setting of choice, such as in their own home, according to website research.
Generally, hospice is a facility or program designed to provide an environment for meeting the physical and emotional needs of the terminally ill. It also may provide care for people who are dying.
Home Nursing Agency is one local organization that strives to treat the person and not the disease in a hospice situation, according to the organization. The agency offers around-theclock care for physical, mental and emotional needs of the patient and their families through the dying process.
"Dying is very isolating and exhausting," said Lynn Ashe of Breezewood, a volunteer at the Home Nursing Agency for more than 25 years.
"People will say to someone dying 'maybe they'll find a cure,' she said. "Patients need to be able to talk about dying. They don't want people to change the subject."
Ashe has layers of experience with providing hospice care. She is currently on the care-team for a Bedford area resident who has inoperable lung cancer, and has suffered a stroke.
In 1980, as her best friend was dying, Ashe said she wishes now that she knew then what she knows today, after years of service to patients and their families.
Craig Ashe, Lynn's husband, was also a hospice volunteer before he died. "We watch them (patients) leave quietly and in peace which is what we all hope for, " Ashe said.
Bedford resident Brenda Bombloskey knows about hospice services first-hand. She once worked for a hospice organization and then found herself in need of care herself when she found out her husband, Joe, was dying.
"When I realized he had pancreatic cancer, I knew I needed to call as soon as possible to get signed up and to plan ahead. It was such a big relief to have hospice here. I was still trying to work, and someone came in to sit with Joe, and towards the end, they did that almost every day. He was declining so fast, his body was changing so much, and I couldn't keep up with it," Bombloskey said.
Hospice helped the Bombloskeys by offering pain management, finding ways to reduce their medical costs, arranging for equipment, all in addition to being supportive and offering companionship. They requested Rev. John Bennett of the Acts Church in Bedford to visit and "he offered spiritual reassurance and made sure Joe was right with God," Bombloskey said.
"People do not want to accept the fact that death is happening. It was such a terrible time and I was so overwhelmed," Bombloskey said. "I know if it were not for hospice, I would not have been present when Joe passed because my caregiver, Samantha Anderson, a hospice aide, recognized that Joe was 'actively dying' and urged me to cancel my appointment and sit with him. Within 30 minutes, he was gone. If it was not for hospice, I would have been sitting there wondering, 'What do I do now?' Hospice helped me through the hardest point of both our lives."
Bombloskey said hospice also assisted her in making funeral arrangements and invited her to join in a celebration of life program later in the year where loved ones are honored and remembered. Joe died in October 2014 at the age of 54.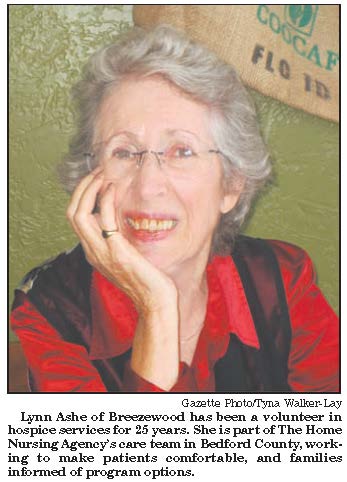 Home Nursing Agency, a part of the UPMC network, has been providing personalized care as a non-profit organization since 1968.
The agency's hospice mission is to provide the highest quality customer service to patients in compassionate approaches as family and friends often struggle to accept that the end of life is fast approaching for their loved one. Hospice can help those involved express their feelings and emotions with trained staff. Staff can arrange clergy and spiritual resources, and suggest programs on how to handle the aftermath of death and the grieving process.
Traci Weyant, patient care coordinator for the agency estimates they assist 20 to 30 patients at any given time. "Sometimes they need our services for a few weeks, sometimes much longer, " she said.
One such program is designed specifically for handling the holidays after a loved one has died. They offer suggestions like planning ahead of time, keeping special music and food on hand, lighting candles and sharing memories with others as ways to cope, according to their website.
The agency's Healing Patch Children's Grief Program offers services to children ages pre-school-18 who have lost a parent, siblings or other loved ones. The volunteers know they are unable to fix what has happened but still aim to offer hope and healing to the child, the organization said.
Volunteers assist in such ways as serving food, sewing projects, or working on special events. "They take a piece of clothing from the beloved family member and make it into a teddy bear," Ashe said.
Debbie Rightenour, a social worker who has been with the agency for more than nine years, has both personal and professional reasons for working with hospice. Her primary role is to offer emotional support and to coordinate services but she experienced hospice care herself when both of her parents died when she was very young. "I come from a personal place about hospice care," she said.
The agency offers support to their staff as well, to handle the day-to-day struggles of being present through the death and dying of patients, and grieving family members. '"We have a tight-knit team here. We take care of each other. We laugh and cry with each other, " she said.
"We also have multiple hospice aids that help patients with hands-on care like bathing, massages, washing hair and nail care, " Rightenour said.
James "Bernie" Beemiller found himself in need of hospice services in 2015 for his wife Vera, after taking care of her for five years on his own. Vera suffered from Alzheimer's disease and died in September 2016 at the age of 90, Beemiller said.
"We were married for 69 years and we had a lot of good years. You ought to be tickled with getting 69 years," he said. "We got married in 1946 after I returned from the military where I served in the jungles of New Guinea. I knew Vera from high school."
Beemiller knew he could no longer care for his wife on his own when she began losing weight rapidly. Normally, her weight was 135 lbs., but she weighed just 70 lbs. when she died. He requested hospice services and also took advantage of caregiver help, and still continues with grief sessions through the agency.
"You know, it takes a wonderful group of people to do a job like this. I was amazed at how they helped my wife and kept her comfortable, " he said. "I don't think I could've gotten through it all without them."
Hospice volunteers, aides and staff have a singular message on end-of-life caregiving: The patient and their families do not have to face death, dying and the aftermath of grief, alone. There are options to make everyone involved feel considered, safe, and comfortable. Home Nursing Agency says when "the scary stuff happens in the middle of the night," their caregivers will be there.
"Hospice is not always the heavy stuff though, " said Ashe. "There are lighter moments too."
She once had a neighbor who as she was dying, told her, "I wish I could take you with me."
———
Contact Tyna Walker-Lay at This email address is being protected from spambots. You need JavaScript enabled to view it.; 623-1151, ext.110.